Tiki Artwork complements of Tiki Tony. Zap over to Tiki Tony's website at
www.tikitony.com
and fill your orbs with his amazing creations. Why your there be sure to check out some of his new hand crafted mugs. He also has prints available at
Falling Cocos
.
The MIG are closing in so we are throwin' some dub voodoo into the signal in hopes of throwing the hunters off our trail. Dangerous yes, but necessary! Things may get a little weird but hang in there because this episode is still loaded with flavor. Dig the crazy cool art of
Tiki Tony.
and the titillating tunes of
Surfpatrouille
,
DJ Heler Selecta
,
Burnin' Sands
,
Creepy Creeps
,
The Von Hodads
and
Chum
.
Also, we are also offerin' for the first time...
The Coconut Wired Character Coffee Mug
.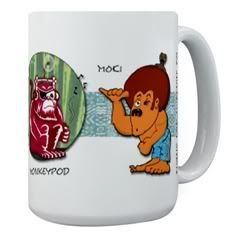 This multiple use coffee mug that has a pic of Monkeypod, Moki and even the lil Coconesian. Chongolio is not on it because he was busy puttin' the art together. but you might find is a note from him near the handle. These babies can be yours for a small donation of $13.99. Right now
Cafepress
is offering
free shipping
between Nov 16, 2006 and Dec, 20 2006 on orders over $50.00. So get all your holiday treats bought in one place and save some dough and find a place to keep your extra nuts and bolts.
So come tune in and bug out at
Coconut Wired.com
.
ATTENTION BANDS AND ARTIST!!
We are always looking to feature new artist and music. If you are or know somebody who is creating artwork or music inspired by the tropical surf, exotic cocktails and magical lush jungles and who would like to be a part of
Coconut Wired
. Zap us a message!
Aloha,
Chongolio