Mystic Tiki art work compliments of
Brad "Tiki Shark" Parker
.
HAPPY NEW YEAR FROM THE COCONUT WIRED CREW! BEST WISHES TO ALL OUR FREINDS, FAMILY, LISTENERS, FEATURED BANDS AND ARTISTS!
Unfortunately, our luck has gone from bad to worse!!! The Men In Grey Suits have landed on our island and are headin' our direction. We have got our camp broken down and are making a break for it but a tropical downpour has hastened our escape and made the mountain path very hazardous. But fret not, we still have the mystical creations from
Brad "Tiki Shark" Parker
to treat your eyes with and some awesome tunes comin' your way by the likes of
Monsters From Mars
,
The Lava Rats
,
The Reverburritos
,
Longboard Ranch
,
The Takeoffs
and a song from
The Ghastly Ones
off their new CD
Target Draculon
. You can buy Target Draculon at the iTunes store by clicking on the banner below.
We are still offerin' the
The Coconut Wired Character Coffee Mug
.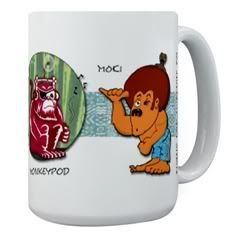 This multiple use coffee mug that has a pic of Monkeypod, Moki and even the lil Coconesian. Chongolio is not on it because he was busy puttin' the art together. but you might find is a note from him near the handle. These babies can be yours for a small donation of $13.99.
ATTENTION BANDS AND ARTIST!!
We are always looking to feature new artist and music. If you are or know somebody who is creating artwork or music inspired by the tropical surf, exotic cocktails and magical lush jungles and who would like to be a part of
Coconut Wired
. Zap us a message!
Aloha,
Chongolio
Hey
Digg
members! If your diggin' Coconut Wired do us a fine favor and click the icon below and give us a thumbs up!